The first thing I noticed after touching down in the western Greenland settlement of Kangerlussuuaq was barren rock and a gray, sediment-choked river.
It was day one of traveling with a group led by Rising Seas Institute and Oceanographer John Englander. As we stood on a new bridge that spans the Watson River, my heart dropped as we learned the reason for the new bridge: accelerated melt from glaciers and flooded ice dams washed the bridge away ten years ago and it had just been reconstructed.
This grim story of the Watson River flood foreshadowed our journey through this beautiful, treacherous, and mostly frozen island called Greenland. Reminders of a rapidly changing environment were everywhere.
We continued on to Iluulisat, a thriving port town, its bay filled with icebergs so enormous they resembled a bleached Manhattan skyline. The iceberg that sank the RMS Titanic is said to have split from the Kangia Glacier that feeds into this very bay. The difference of course, between 1912 and now, is the undeniable acceleration of calving and loss of ice and water from the Greenland Ice Sheet.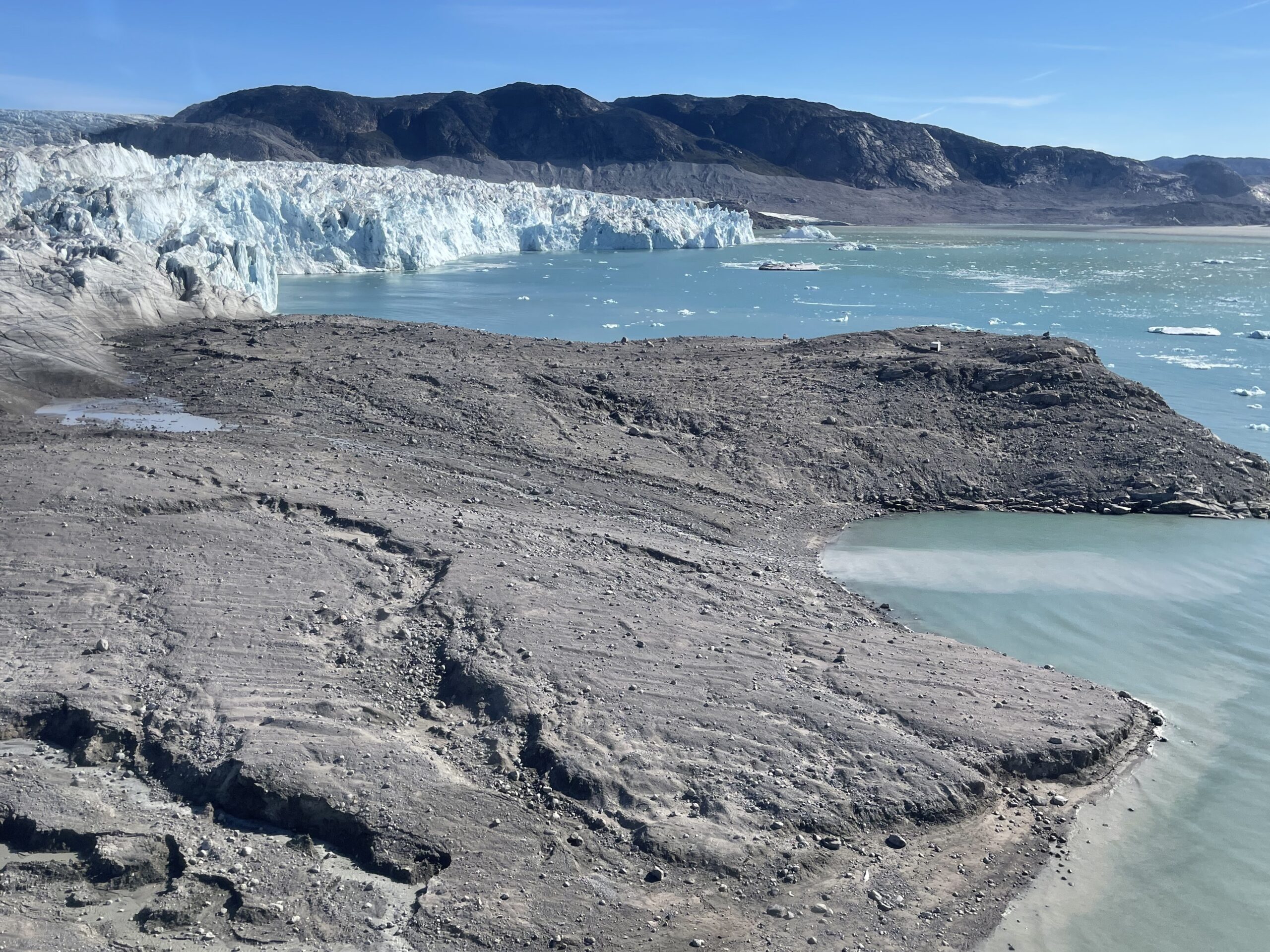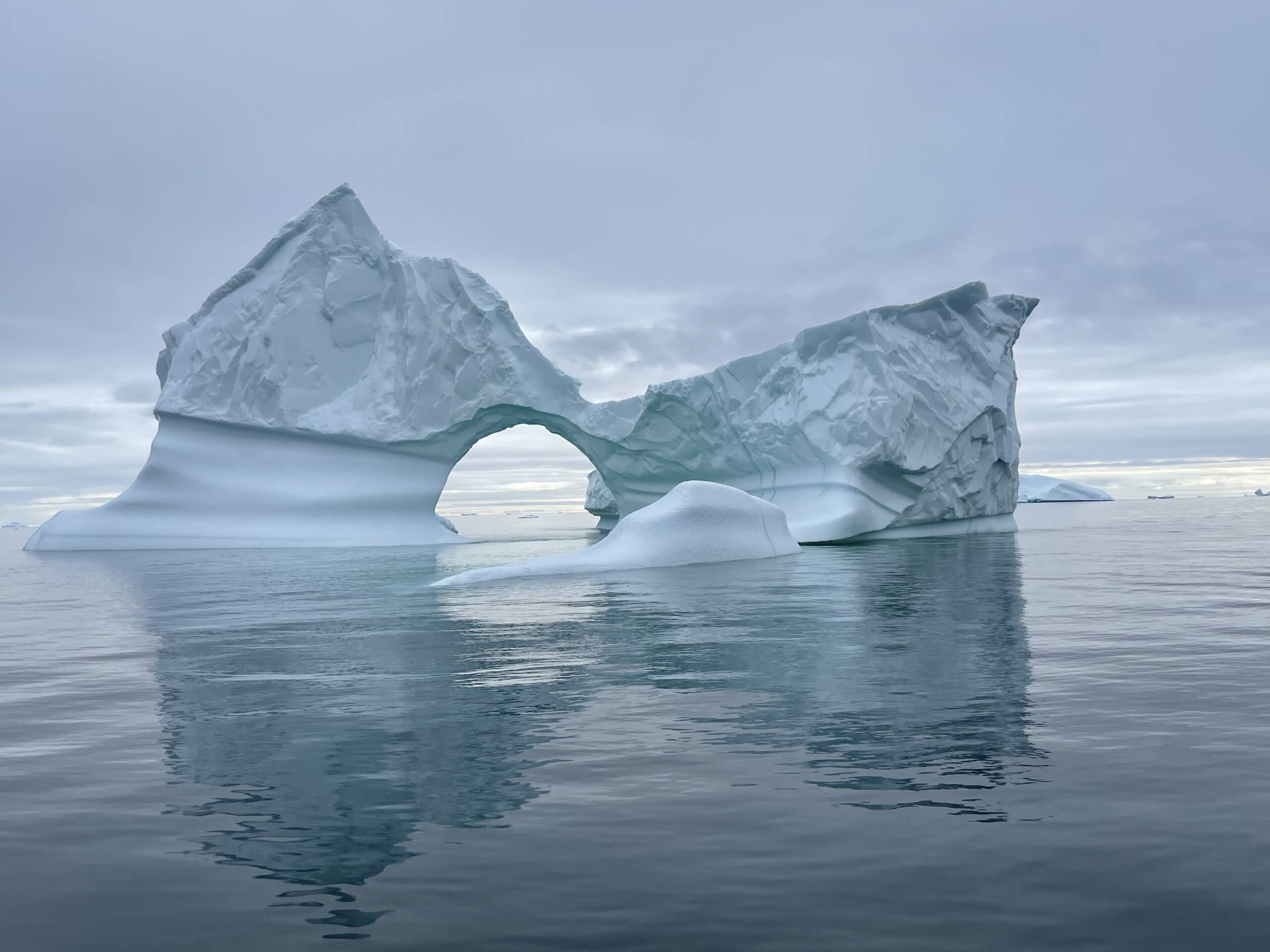 It is hard to see these floating ice sculptures and their sheer size as anything but beautiful when traveling in a boat among them.
Flying over the massive ice sheet reveals a much different story. To view the frozen terrain from the air reveals the destructive forces behind the beauty we had sailed through. Glaciers retreat from the sea and the radiant blue pock marks of melt ponds scar the ice sheet.
The melt ponds form rivers that seem to disappear into the ice via mulons or vertical shafts. Black soot, dirt, mold and pulverized rock dust give the ice sheet a tired, worn look. The loss becomes more evident at the edge of the sheet, where the calving occurs. Thunderous booms echo across the valley as huge chunks of ice fall into the bay.
In a perfect world, fresh snow and ice would cover the ice sheet, as it used to. There would be markedly fewer melt ponds and the scarred, cracked surface would be hidden under a radiant blanket of snow and ice. But this is not a perfect world.
The Greenland Ice Sheet, if it were to disappear, would raise sea levels by 30 feet.
The critical role that ice plays in keeping our planet cool, be it sea ice or land ice, is nowhere more evident than in Greenland.
We must do something to slow the loss of ice in the Arctic. 
I share this story with you today, in the face of political inaction, because witnessing the devastation climate change has already caused, first hand, has inspired in me a new urgency for action. We can wait no longer. The world's governments are failing to meet this moment and so we find ourselves in positions where we must each step up and join the fight for our planet's future – for our future and next generations.
Time is not on our side, but at Arctic Ice Project we are working to change that. Arctic Ice Project has developed and is researching a promising technology that improves the reflectivity of sea ice. By mimicking the natural reflective properties of ice, AIP methods can reflect solar energy out of our atmosphere, shepherding sea ice to survive the increasingly long, warm and intense Arctic summers. Our solution, strategically and safely applied in the Arctic, could provide up to 15 more years for our world's economies to decarbonize and draw down GHGs from the atmosphere. Decarbonization is the ultimate solution, however our window of opportunity is limited and we need to take action now. I have committed myself to being part of this exciting research solution and I encourage you to join me. 
This Giving Tuesday (just three weeks away), we are raising money to fund the next round of research towards ensuring our technology is safe and effective. We rely exclusively on private donations to support our research and need your help to reach our goal of $50,000 to continue our progress. Climate change action can't be postponed another day, week or year – I urge you to help us meet this goal today.
With gratitude,
Carol Sontag
AIP Board of Directors
All images were taken by Carol Sontag during her trip to Greenland.